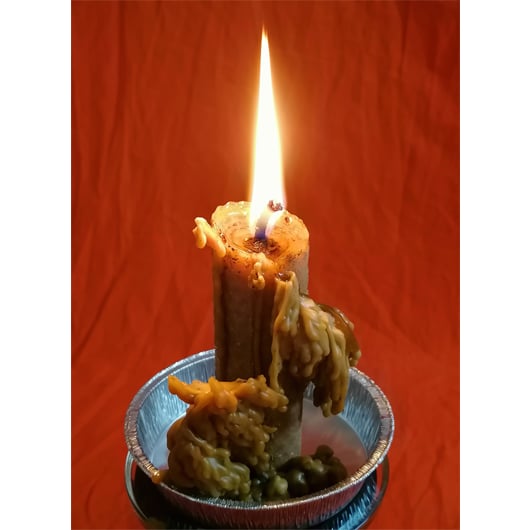 JUSTICE CANDLE petition esoteric BEESWAX
JUSTICE CANDLE petition esoteric BEESWAX
$19,77
$19,77
Use: it's like a defense attorney. It is a candle for legal proceedings, in which we will always be protected by luck in trials. Sometimes justice is not always fair, depending on different factors and therefore, we have to resort to Divine Justice to enlighten the judge and lawyers.
Colour: Red
Size: 3,6 x 20 cm
100% Beeswax
Category: Esoteric candles
Description
Guia de tallas
Additional information
Description
JUSTICE CANDLE
The candle for injustices, it's like a defense attorney. It is a luck in legal proceedings with candles, in which we will always be protected by luck in trials. Sometimes justice is not always fair, depending on different factors and therefore, we have to resort to Divine Justice to enlighten the judge and lawyers. The candle judgments, accompanied by the candle of St. Jude Thaddeus Cod. 1.16 are a perfect combination so that the final verdict is in our favor, the candle prepared for justice gives us a complete candle magic ritual of virgin wax candles, so that superior entities and protective spirits watch over the entire judicial process and give you the reason.
A candles for a trial is a great help when we see the many or few difficulties we face; the pressure they put on us and the uncertainty that corrodes us.
In short, it is worthwhile in these cases to take refuge in faith and not be sorry all our lives for not having tried.
You can reinforce the candle prepared for Justice by anointing it with the Plant Oil Cod. 6.07.
Do the ritual one or three days before starting the judicial process.
Luck in candle litigation
We live in a society full of tension, nervousness and insecurities. Social justice is conspicuous by its absence in the social fabric and we cannot always obtain what is just.
One of the most interesting candles we can find is the candle for injustices, facing a trial is difficult and not everyone is emotionally prepared for it.
It is worth bearing in mind that the judge may not agree with us, so let us be careful and perform a candles for a trial in which we will use a set of candles of different types but with the same purpose, which is the candle judgments. Another crucial characteristic in the destiny of people is the luck factor and that factor, luck in candle litigation is fundamental: good luck of course.
We inform everyone who wants to know, that there is a candle prepared for justice, which serves to ask for divine justice. Unfortunately, earthly justice (that of man) is arbitrary and unjust.
Therefore, when we have to face a judicial process, let us light the luck in legal proceedings with candles in order to be protected for as long as it lasts. And if, by whatever circumstances, we do not find the candles mentioned above; it's okay to simply do a candle magic ritual.
The joker to use when we do not have explicitly what we need, is to use virgin wax candles.
Candle prepared for justice
The purpose of the justice candle is to invoke divine justice. To make an appeal to the truth, to the universe, asking for the intercession of a pure immaterial being, be it God or any divine creature to whom you have faith. Asking heaven that your petition be approved because it deserves it. Depending on the severity or difficulty of the case, you can light one a week for three weeks in a row. It is recommended that it is a Thursday and if it can be in a crescent moon, favors the planet Saturn to obtain some favor. The result of the candle is an impulse to a change of situation by injustice, a change to favor us in one way or another, something unexpected will arise that will help us see the Light at the end of the road or solve the situation. It encourages the unexpected intercession of a colleague, friend or acquaintance to solve the case.
Consult us for wholesale prices.
VAT NOT INCLUDED.
Additional information
| | |
| --- | --- |
| Weight | 0,140 kg |
| Dimensions | 20 × 3,6 cm |