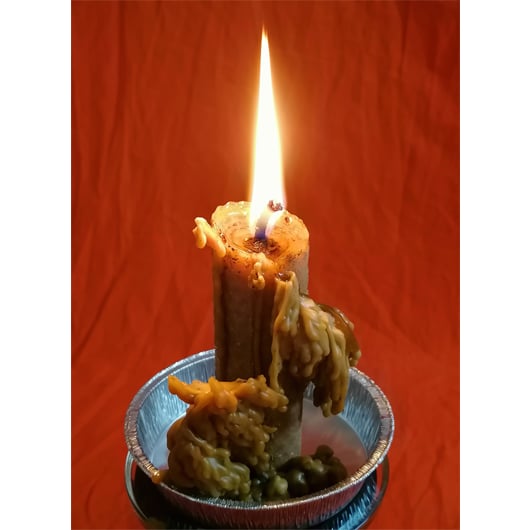 CANDLE SAINT CYPRIAN
CANDLE SAINT CYPRIAN
€19,60
€19,60
Use: is effective in healing, protector against maleficence, frees from spells and possessions, grants all kinds of requests, legal matters, envy and jealousy. St. Cyprian is the patron Saint of white magic.
Colour: Yellow and Red.
Size: 3,6 x 20 cm
100% Beeswax
Category: Esoteric candles
Description
Guia de tallas
Additional information
Description
Candle Saint Cyprian
The candle Saint Cyprian is a candle cleaning ritual, it is a candle that candle destroys everything: it eliminates black magic, the evil eye, spells, sorcery and curses. It is also a protection candle for business, in the economic and political situation that we are going through, it is highly recommended to be proactive in our work future, with the candle protection at work. It is more than convenient to do a candle cleaning ritual regularly, at least once a month and always on Tuesdays. A candle against the evil eye, always keep at bay the influences that cause us psychic imbalances, people can be more or less influential to these energies. The candle against curses will protect us from undesirable people who want to sink us by our way of being or our possessions, everything is based on the envy that reigns and campaigns throughout this world.
The candle against critics will protect us from criticism, since it is the main foundation (the language) that unleashes all the other nefarious virtues of man such as black magic, sorcery and criticism.
Saint Cyprian candle is effective in healing, it frees from spells and possessions, it grants all kinds of requests; legal matters, envy and jealousy. St. Cyprian is the patron saint of white magic.
You can enhance the ritual, anointing the candles with the Plant Oil Cod. 6.08.
Do the ritual on Tuesdays.
Candle against curses
There are times when all things are twisted in a way that seems to have put a curse on us. No matter how hard we try, it's time to get serious and put a candle destroys everything. To clear the field of negativity. Another of the aspects that can harm us a lot as people are the criticisms, (which are destructive of course). They make us feel terribly bad, if we put the candle against critics, we will notice an immediate tranquility.
They also say that the eyes are the deep reflection of the soul and of course there are people who seem to be that just by looking at us they can fulminate us and project very negative energies onto us. Preventing this is fundamental, as is lighting a candle against the evil eye: it will disappear immediately.
Work is an issue that concerns an important group of the population on a large scale, and that is that work is scarce and very much so. Let's keep the candle protection at work close at hand. Business is not immune to a very difficult economic situation either, and if what we need is for it to be prosperous, we will turn to a protection candle for business.
The curses are not seen at first sight but exist, there are like oxygen: we do not see it but we breathe thanks to it. Our enemies will be neutralized with the candle against curses.
When I know the circumstance in which we are invaded by very dirty energies, we can perform a simple ritual, such as a candle cleaning ritual without more or a candle cleaning ritual with more specific candles and more elements.
St. Cyprian as a candle destroys everything
St. Cyprian was a very powerful black magician, using his power to do evil. One fine day he was converted and used his strength to serve good, from that moment on and considering some miracles he did he is considered a Saint. His help and intercession can be requested when the attacks of evil are very powerful, times of life when everything goes wrong, influence of constant evil, possessions, changing moods and very frequent in a person. St. Cyprian is a great ally in the fight against the spirits of the lower Astral.
To ensure a good energetic cleaning we recommend lighting a candle Saint Cyprian with beeswax and plants on a Tuesday. Or to cut one completely every Tuesday for three weeks in a row. Depending on the influence of the Evil, sometimes it is necessary to attack with more forcefulness.
Additional information
| | |
| --- | --- |
| Weight | 0,140 kg |
| Dimensions | 20 × 3,6 cm |