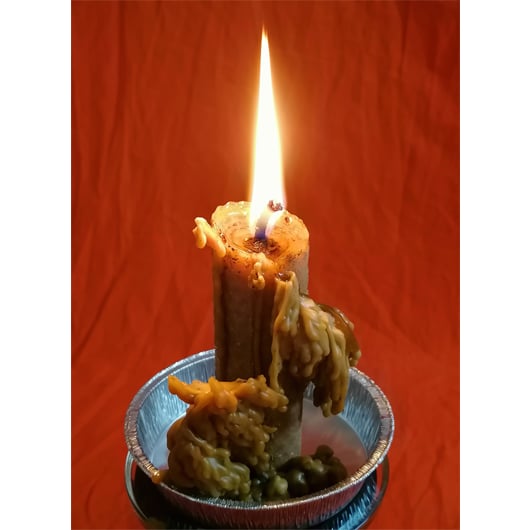 CANDLE FORCE
€19,60
Use: more than a physical stimulant, it is a mental energy boost to help us overcome the difficulties and setbacks of everyday life. It is a candle of mental strength that offers us peace and balance to face situations with all sense and good judgment, this is the characteristic of the winning spirit candle. It is also used to reinforce a ritual of any kind.
Day of use: do the ritual on a Tuesday.
Colour: Red.
Size: 3,6 x 20 cm
100% Beeswax
Category: Esoteric candles
Description
Guia de tallas
Additional information
Description
CANDLE FORCE
Candle force, more than a physical stimulant, is a mental energy boost to help us overcome the difficulties and setbacks of everyday life. It is a candle mental strenght that offers us peace and balance to face situations with all sensibility and good judgment, this is the characteristic of the victory spirit candle. It is also used to reinforce a ritual with candles of any kind, candles and rituals by themselves work, but if they are given an extra energy contribution, much better, it is a spiritual communication candle. Candle Art manufactures its esoteric candles in Barcelona, along with esoteric articles.
Whenever we are exhausted, tired and disoriented, the candle force can act as a joker within our frenetic existence. It can be considered as a spiritual vitamin.
Our esoteric candles in Spain and the rest of the world, are recognized by their quality and results, we offer candles for most needs in which we can find ourselves: cleanliness, opens roads, luck, to keep away toxic people, love, business, money, justice, protection, mental development … Perhaps a small investment in an insignificant candle, we change undesirable circumstances of our lives, which otherwise would be virtually impossible to solve.
To reinforce the ritual you can anoint the candles with the Plant Oil Cod. 6.10.
It is preferable to do the ritual on a Tuesday.
CANDLES AND RITUALS
More and more people cannot access everything they want on a material level. Candles and rituals have incorporated them into their daily lives. There is a candle that we have not told you about until now and it is certainly a jewel: the candle force spiritual can be used to obtain strength and power or as a support point to reinforce a ritual with candles. It is a candle linked to the mental and the spiritual.
When we feel worn out on a mental level, the candle mental strenght can help us to clear our minds and have clearer and more objective ideas. This candle is also very interesting for seers, mediums, etc. Since it is a channel that puts them in contact with spiritual communication.
Nowadays, shops and more specifically those specialized in the esoteric have a multitude of esoteric articles. Sometimes the same product is sold under different names, or references. Let us not be fooled, the candle or candle force spiritual can be found with the name of victory spirit candle. But rest assured, it is the same product.
We also want to tell you with pride that esoteric candles in Spain are an important reference in this sector. But as Spain is very big we especially recommend you the esoteric candles in Barcelona, whose craftsmen offer a product of excellent quality.
Additional information
| | |
| --- | --- |
| Weight | 0,140 kg |
| Dimensions | 20 × 3,6 cm |