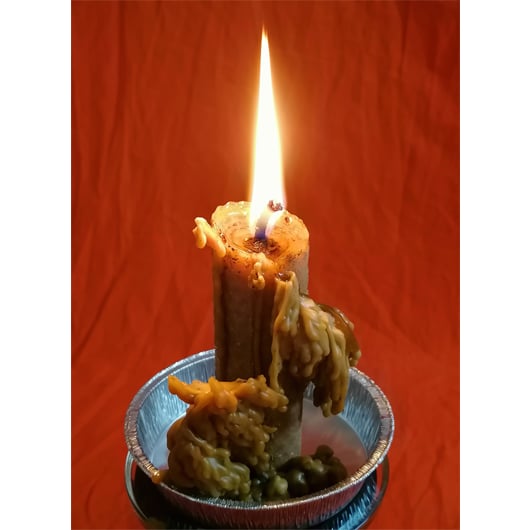 CANDLE SAINT MARK
€19,60
Use: effective defense for people who want to put pressure on us. The candle against harassment will calm down people around us who want to dominate us. It will prevent us from having a bad time because of people who, because of our reason, sex, race or way of being, want to humiliate us to their satisfaction.
Day of use: Tuesday.
Colour: Red and Wax.
Size: 3,6 x 20 cm
100% Beeswax
Category: Esoteric candles
Description
Guia de tallas
Additional information
Description
Candle Saint Mark
The candle Saint Mark is an effective defense for people who want to put pressure on us. The bullying candle will calm down people around us who want to dominate us. The candle against fighting will avoid us having a bad time because of people who, because of our reason, sex, race or way of being, want to humiliate us to their satisfaction. The candle against workplace harassment at work, will avoid this situation that is very current today, passing the harasser to a change of temperament softer and kinder. The candle against anger, avoids the bad atmosphere of nerves and tension that may exist in a home or workplace. By lighting a candle to reassure people with an irritating character, we will achieve a human relationship with that person, making the course of the day more pleasant.
The way to ritualize the candle to soften people, is very simple, we will only take the candle Saint Mark with both hands and mentally think visualizing, the good friendship and esteem that person has towards us and vice versa. Questions of envy, disputes or "I don't like you" are very widespread, the candle against disputes will help us to have a good social relationship towards others. The candle Saint Mark is one of the most requested esoteric products, because it will be…
To reinforce the ritual you can anoint the candles with the Plant Oil Cod.6.16.
It is preferable to do the ritual on Tuesdays.
BULLYING CANDLE
The coexistence between people is a very difficult task that consists of knowing how to keep a balance and stability so as not to pass over anyone. In many companies there are people who abuse and much of their privileged position. We must not allow this, let us light a bullying candle, let us make it very clear first of all that we do not intend to harm anyone; it is only a candle to reassure people.
We are very evolved but in interpersonal relationships we are not able to reconcile uncontrollable positions, leading to real conflicts. The candle against fighting will help us to dissipate violent situations.
Sometimes with colleagues who are not willing to allow a pleasant stay at our workplace, where we spend many hours. Do not allow it, at the least symptom we use a candle against workplace harassment. But if you are a particularly difficult person to live with and have a strong character, we can also use the candle to soften people up.
Friendships between people do not usually escape either, at least at this time of society to small annoyances often by a trifle. Let us recover that friend with the candle against anger, since it is a friendship. Other environments are perpetually destined to be confrontational. Confrontations always end badly; let's solve it with the candle for disputes because they are very unpleasant.
And as everything has a solution in this life it can be remedied with esoteric products.
Additional information
| | |
| --- | --- |
| Weight | 0,140 kg |
| Dimensions | 20 × 3,6 cm |