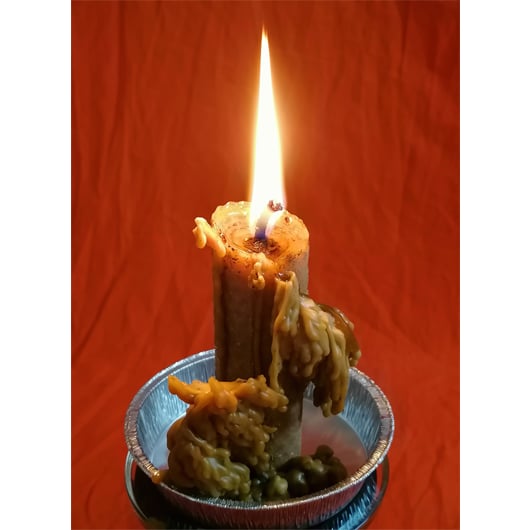 CANDLE TO SEPARATE petition esoteric BEESWAX
CANDLE TO SEPARATE petition esoteric BEESWAX
$19,77
$19,77
Use: candle to keep people away, is necessary nowadays to have a tranquility and intimacy. Removing magic with candles gives us control over the loved ones we have around us. There are many variations in which we can avoid a situation against moorings, (undoing moorings with candles, moving away a third person in a couple) or a candle to keep away bad company.
Do the ritual on Tuesday, once a month.
Colour: Red.
Size: 3,6 x 20 cm
100% Beeswax
Category: Esoteric candles
Description
Guia de tallas
Additional information
Description
CANDLE TO SEPARATE
The candle to separate or candle to separate people, is necessary today to have a tranquility and intimacy. Removing magic with candles gives us control over the loved ones we have around us. There are many variations in which we can avoid a situation against moorings, (break up bad relationships, keeping away a third person in a couple) or a candle ward off bad companies, (there are always toxic people taking too much interest in our life, to then criticize it), candle wardoff danger is also an option, (keeping away possible boyfriends that we already know in advance that they will not bring anything positive in our life). In short, it is a way of keep away bad relations with candles. Nowadays, teenagers (our children) are very vulnerable to bad influences from school mates or friends, what better way to keep relationships away from children with candles. Especially recommended for candle to separate.
You can reinforce the ritual by anointing the candles with the Plant Oil Cod. 6.03.
It is preferable to do the ritual on a Tuesday and if the situation is serious, we recommend using three candles, one every Tuesday for three consecutive weeks.
Candle to separate people
Absolutely everything in our lives and in our destinies is subject to or linked to the internal or external influences of people who sometimes depend on ourselves or our fellow men. For better or worse this influence will leave an indelible mark on our personal experiences and on what we project as beings of light.
There are people like family, friends or acquaintances who can contribute great things to our daily work. Others, on the other hand, and unfortunately for us, are completely destructive people and we have no alternative but to use a candle to separate people. We also find people with a very high ego and who want to submit to their dominance. And their influence is hypnotic and very strong and we do not know how to end this situation because we are in a situation of total helplessness and their influence touches the veil of the impossible. This generates a great powerlessness for us. It is time to move on to the next sphere and we will solve it once and for all by removing magic with candles.
Protecting your children
The social life of our children must also concern us. Parents can keep relationships away from their children with candles. The practice of mooring to get a person's love is also widespread. If we put a candle to separate in time, we will save ourselves a lot of trouble.
If our children are not able to see for themselves what is good for them, we can take relationships away from the children with candles. In the same way we are surrounded by individuals whose paths in life are not quite right. In the face of this, we can turn to candle ward off bad companies.
Or even when we already have an established relationship but it has broken down we will have to keep away bad relations with candles.
Youth or inexperience can cause us to meet suitors who contribute little on a love level. The solution: candle wardoff danger. And in the same way, if we have indications of a possible mooring, we can break up bad relationships.
Can a candle to separate keep out undesirables?
The answer is yes. It is a very special candle, and one of our best for cutting off evil, whatever its nature; whether it is to keep people away, candle to separate, to avoid bad company from our children or ourselves, or even to scare away suitors. It is a candle that reverses the negative things that have been done to us, undoes moorings that may have been done to us and neutralizes them. If we do not detect it in time, the evil grows and multiplies, making it more difficult to eliminate it. An early detection is usually enough to light a single candle, depending on the case or if it is very entrenched is recommended are 3.
We do not have to wait long to detect a bad relationship, we can know how we react, our involuntary acts, the communication of the body that is expressed naturally. We have to be attentive to these clues in order to protect ourselves. The sooner we act to overcome the evil the easier it will be. The problems usually become entrenched and this then provokes a great esoteric arsenal to counteract them. A candle and repeating the ritual when we need it is enough. We recommend lighting the candle to separate once a month.
Consult us for wholesalt prices.
VAT NOT INCLUDED
Additional information
| | |
| --- | --- |
| Weight | 0,140 kg |
| Dimensions | 20 × 3,6 cm |