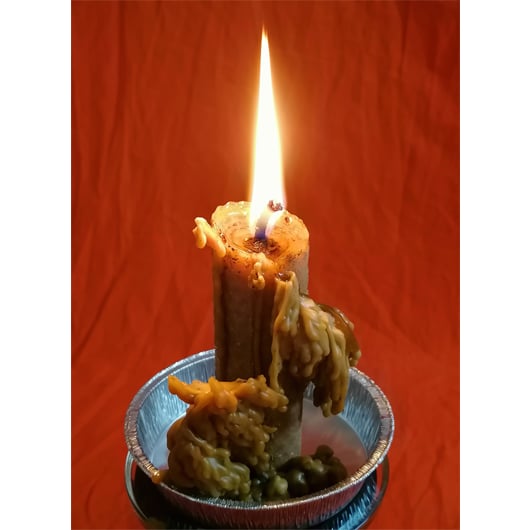 CANDLE SAINT ALEXIUS petition esoteric BEESWAX
CANDLE SAINT ALEXIUS petition esoteric BEESWAX
€19,60
€19,60
Use: Saint Alexius candle is a candle to keep away bad company, in the world we are in, it is not difficult to find people who wish us a bad life. A good defense is the candle to keep away enemies, it is effective, easy to do the ritual and above all we do not harm anyone, simply people who stalk us will forget about us.
Day of use: do the ritual on a Tuesday.
Colour: Violet
Size: 3,6 x 20 cm
100% Beeswax
Category: Esoteric candles
Description
Guia de tallas
Additional information
Description
Candle Saint Alexius
The candle Saint Alexius is a candle to ward off bad companies, in the world we are in, it is not difficult to find people who wish us a bad life. A good defense is the candle to ward off enemies, it is effective, easy to do the ritual and above all we do not harm anyone, simply the people who stalk us will forget about us. It is a candle to ward off envy, unfortunately most human beings think that we are the most unfortunate on earth and we want from others what we do not have, hence the use of the candle to keep people away. In our private life, it is when we have more cases of harassment: the candle ward off neighbors, will keep them at a distance to forget about them, the candle to drive away coworkers, will turn them into kind and disinterested people in your life because you have to live together in a working day, (this includes colleagues, managers and bosses).
The Saint Alexius candle will protect us with an invisible barrier from people who are very interested in our life, ignoring us and therefore letting us live peacefully.
In our conjugal life, we may suspect disloyalty to one of the spouses, the intrusion of this third person, we may drive it away with the candle against infidelities.
You can strengthen the ritual, anointing the candles with the Plant Oil Cod. 6.03. Do the ritual on Tuesdays.
How to keep away evil
And one last piece of advice that is like real life, to have around us spirits that with their presence torment our life, the symptoms of their presence are: anxiety for no reason, noises or cracks in the walls and furniture of your house, low temperature not being normal in the room and negative thoughts constantly, you will solve the issue with the candle keeps away spirits.
Candle to keep people away
Moving people away in the course of our lives is something we're going to have to learn. There are people who can bring us many positive things, others however will only cause us problems. We can even make enemies with them.
Candle to ward off enemies will help us to breathe. Sometimes it can be a group of people that we cannot get rid of. A single candle can be against several people; it is the candle to keep people away.
If, on the other hand, we have children who are at a vulnerable age, it is not superfluous to inspect the environments in which they move. When in doubt, the candle to ward off bad companies and everyone will be at ease.
It can also happen that we have a promising couple, but we want them to stay by our side. The candle against infidelities will guarantee us fidelity from her.
If we do not live in a single house and our home is in a block of flats we may have disrespectful neighbours, the candle Saint Alexius also serves as a candle to keep neighbours away.
Candle to ward off bad companies
Another place where a conflictive environment develops can be our workplace, where there is often tremendously fierce competition. And there will always be those who want to trample on us, the candle to drive away coworkers, it will protect our workplaces.
There is another very negative influence that is often the envy that our fellow men may have of us. And since jealousy can be very harmful to us, it does a lot of harm. Let's keep the candle at hand to candle to ward off envy.
And if we are people of great spiritual sensitivity, we can be hooked by a multitude of harmful entities. They must be on another plane, the candle will candle to ward off spirits, it will place them where they belong. It is a candle to candle to ward off envy.
Consult us for wholesale prices.
VAT NOT INCLUDED
Additional information
| | |
| --- | --- |
| Weight | 0,140 kg |
| Dimensions | 20 × 3,6 cm |