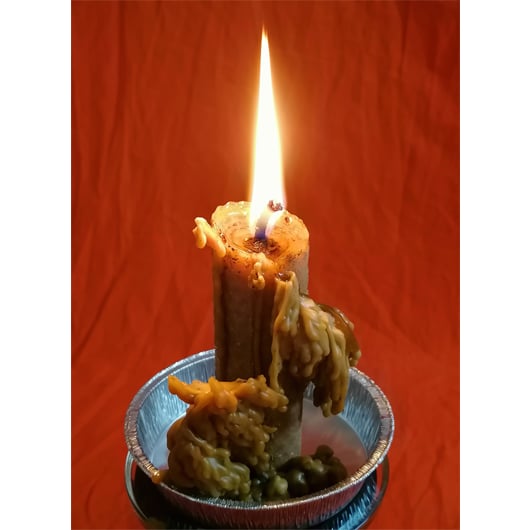 CANDLE JOSE GREGORIO HERNANDEZ
CANDLE JOSE GREGORIO HERNANDEZ
€19,60
€19,60
Use: it is an aid in the healing of illnesses, always as a complement to any medical treatment. Treatment of help in the rehabilitation or to alleviate in a chronic illness.
Day of use: do the ritual on the days that you believe convenient.
Colour: wax and blue
Size: 3,6 x 20 cm
100% Beeswax
Category: Esoteric candles
Description
Guia de tallas
Additional information
Description
Candle José Gregorio
The candle José Gregorio is a healing candle, its composition is based on beeswax and a combination of between forty and fifty magnetized medicinal plants, for each specific case. The José Gregorio candle is a candle for health, it is a way within the alternative therapies to help alleviate or cure diseases. Whether it is a healing ritual or a healing ritual, the healing candle brings its properties, and it is not superfluous our contribution of conviction with our love and faith. The candle for health requests, is a great unknown, since generally a magnetized candle is identified with esotericism.
The magic for health also exists, after all they are energies that are used for a certain purpose. A ritual for health is to invoke saints, superior spirits or whatever we believe to be supernatural, our connection to them through our faith; it will give us more or less the result we want to obtain from them, to whom it asks, it is always given. You can enhance the ritual by anointing the candles with the Plant Oil Cod. 6.15. Do the ritual on the days that you believe convenient, with a treatment for rehabilitation or to alleviate a chronic illness.
To reinforce the ritual you can anoint the candles with the Plant Oil Cod. 6.15.
Candle for health
They are great strangers because the esoteric ones are the great stars. But the healing candle enters more into the field of alternative theme, are candles that are intended to help us fight a disease, is a healing candle. Although we enjoy excellent health, it is not wrong to light a candle for health in general.
Even at a more specific level and when we suffer from a more specific health issue, we can resort to the candle for health requests. If we feel that just placing a candle is not enough, we will do something more complete, such as a ritual for health.
We must be very aware that health (good health, of course) is the fundamental pillar on which the wellbeing of human existence is based, which is why we must bear in mind the healing ritual or candle José Gregorio. That is why there are people who are in permanent contact with the magic for health.
But the human being, although he is responsible in taking care of his state of health; either by internal or purely external factors he can get sick: it is when we should not neglect the healing ritual.
Additional information
| | |
| --- | --- |
| Weight | 0,140 kg |
| Dimensions | 20 × 3,6 cm |